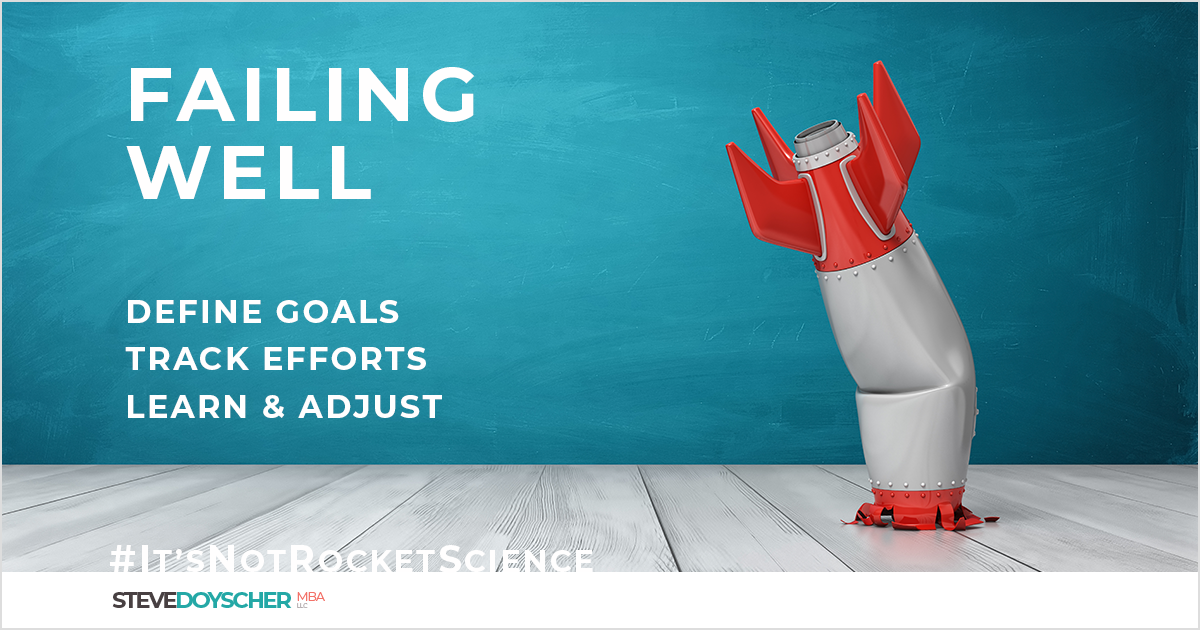 The fear of failure maintains the status quo. This is a problem as inertia ignores the one constant that defines our time – the rapid pace of change. Companies that don't adapt will eventually be overtaken by those that will.

To deal with this, let's separate the term failure from the costs associated with it.  If we can reduce the costs, failing is more palatable. I propose two items that can help companies reduce these costs.

The first is defining what success looks like for any undertaking.  This may sound like a given. However, it is amazing to see how often vast resources are poured into initiatives without solid understanding as to what the end game is.  For example, have you ever been involved in an IT initiative that never went anywhere despite the company spending months or years and hundreds of thousands of dollars?  Here goals aren't understood and bought into by the team.

The second item is tracking all efforts against the goal.  For example, if the goal is to ensure maximum visibility for a product launch, are you using tracking phone numbers, UTMs, promo codes, and potentially recall surveys?  Doing so will ensure you know what marketing efforts are working the best in helping you reach your goal of awareness and initial purchase.

Doing these 2 things: Knowing your goal, and tracking effectiveness across efforts will allow you to:

Pivot during your efforts as you have near real-time information on how efforts are performing. This will to help deliver a better chance of success.
Understand the effectiveness of different efforts. Tracking for the product launch example will yield rich customer information on the effectiveness of channels, messages, and promotions.
Through this prism, even an initiative that turns out to be less than a success still isn't a failure.  It's simply the cost of obtaining information. The more inexpensively this can be done, the more boldly a company can test new ideas and reduce its institutional fear of failure.  
What do you think? Are you facing issues with a fear of failure in your company?
Comments are closed.