Connect
Goals; Strategy; Tech; People; Ideas; Plans; Action; Analysis
With
Strategy; Tech; People; Ideas; Plans; Action; Analysis; Goals
I make connections that leverage technology, information, and teams to grow revenue.
If you need to get solid strategic help and get moving now, you're in the right place. Get help with development of winning strategy through research, analysis, and collaboration. Also, put that strategy in motion by designing a website, developing an animation, and delivering website traffic through social media, SEO, and SEM.  Keep on scrolling to see what clients say and an example of my work.
Strategic Leadership
Get help bringing your products and services to market:
Branding & positioning
Product development & pricing
Competitor & marketing analysis
Sales & marketing integration
Digital Communications
Knock items off your to do list to get your sales moving:
Website design
Automated email marketing
Content creation including video
Social, SEO, and SEM
"Our revenue is up 25% across the board and every segment of our business is growing."
–Tom Richards, Chief Operating Officer
"We experienced 25% growth and a lot of that has to do with Steve."
–Bryan Delmont, Operations Manager
"Steve has helped us develop a value proposition that is clear and concise."
–Rich Hamer, Chief Strategy Officer
An Example of my Revenue-Based Approach
I deliver marketing that gets results by leveraging each component of the sales velocity formula:
(Value of Opportunities + Number of Opportunities + Win Rate) / Sales Cycle
Increase the Value of Opportunities
First thing's first. If we are going to tell a story to win new business, it had better be good. I met with the client's leadership team at their location to determine the brand structure, positioning, and unique value.
In subsequent meetings we solidified the color palette, fonts and photography to be used in marketing materials.
Increase the Number of Opportunities
This client needed immediate and mid-term help increasing the number of opportunities available to them. The immediate need was to fill an intimate event with the right people from Fortune 1000 companies. We employed a strategy that used sales outreach and social media to drive traffic to a robust landing page that explained the value of the event, as well as the firm.
The second need was getting more people in the pipeline. For this, we developed lead generation using downloadable information to turn anonymous website visitors into contacts that can be reached.
Lead Generation Pop Up and Form Page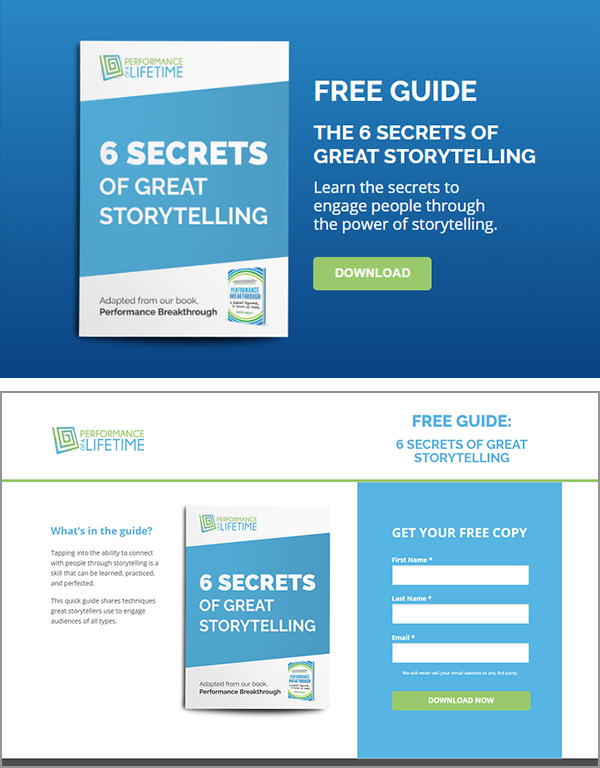 Event Landing Page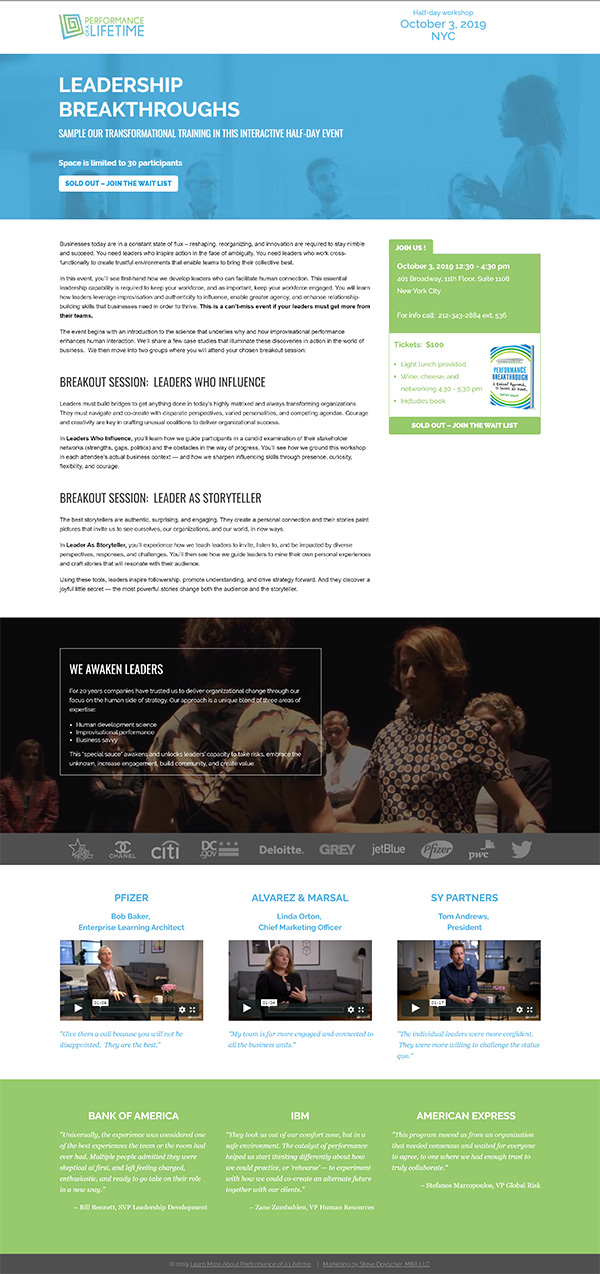 Increase the Win Rate
We developed a detailed persona of the buyer that would be interested in the client's services based on a combination of traits from current best buyers. Developing a concise understanding of goals, challenges and how we help this particular person helped us crystallize our message on value delivery. Additionally, we developed a shared understanding of how this buyer was influenced in their organization.
Shorten the Sales Cycle
I worked to claim a unique position in the marketplace that showcased their core value. On this position, we defined a new product hierarchy. The client's services were developed into saleable products with unique benefits and features. The hierarchy was structured so prospects easily understood levels of benefits with each tier of service.
New Website Home Page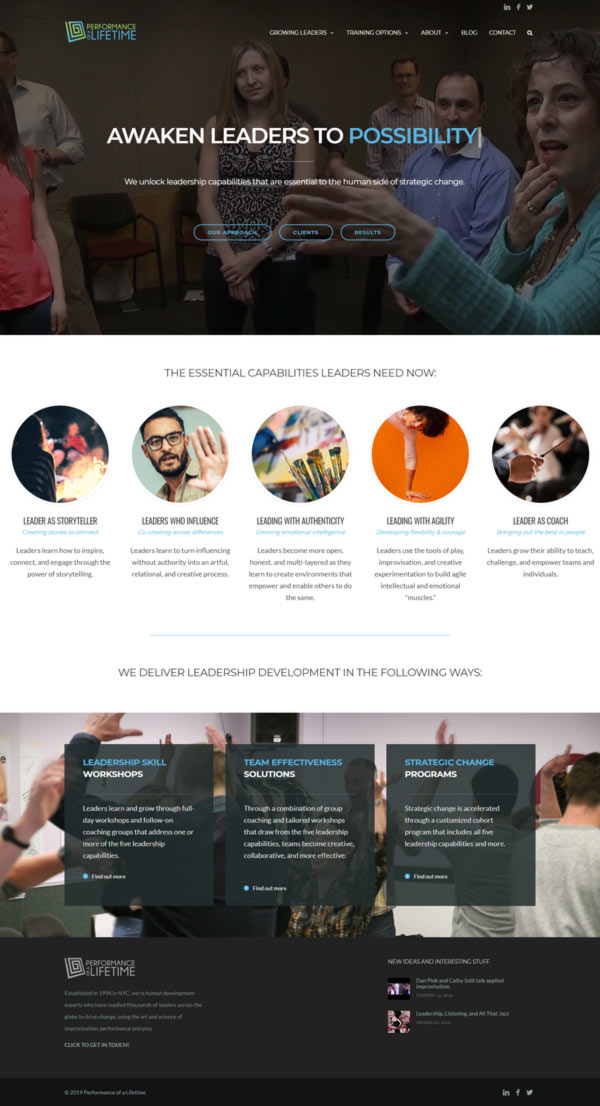 Services Sell Sheet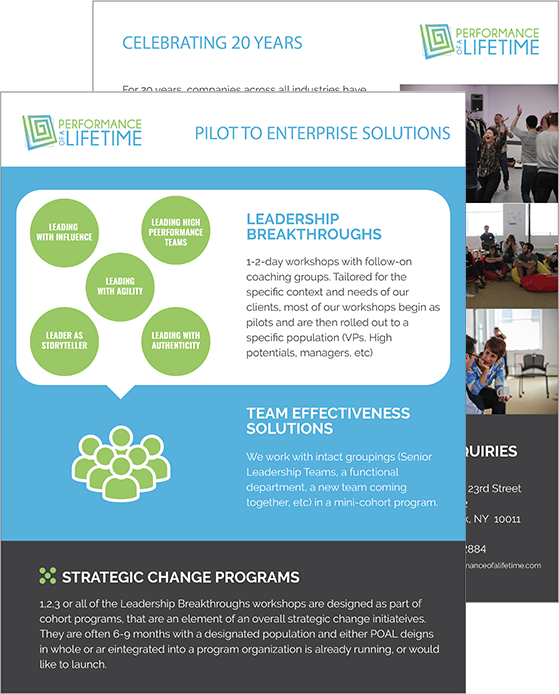 The Resulting Wins
These efforts delivered excellent results across the board.
The event that had been difficult to fill in the past was sold out with the right people attending. A wait list was created and there are people eager to attend the next event.
The sales team closed significant additional new business in the same quarter.
100 new contacts were generated in the first month and are now in the client's database. These contacts can be nurtured by sales and marketing for future opportunities.